STUFF FOR
HUMANS
Now More Than Ever, It's Time to Measure
I learned my first formative lesson about marketing and advertising when I started my career in 2008. It was this – marketing budgets are the first to get cut and the last to be restored during an economic downturn. If you're an agency, you're likely the first marketing budget line item on the chopping block. While there's data that suggests it's not a good business decision, we know budget cuts are staring down just about every marketer in the business during this unprecedented time in our modern history.
What's different about this market downturn is that it's likely going to define a new normal, and it's anyone's guess on what that means for marketing budgets. It's widely speculated businesses will forever change after this downturn, and marketing won't be immune.   So, how do you make the decisions on what to cut and what to reallocate? Unfortunately, the current state of marketing reporting is focused around measuring activity and not results. If that's you, then it can be hard to look at your marketing programs and determine where you can cut fat. (If you're looking for info on how we recommend adjusting your marketing measurement in the midst of crisis or pandemic, you'll find this article helpful.) If you know you need to reallocate or adjust your marketing strategy, here are a few considerations for making decisions about your strategy during this pandemic.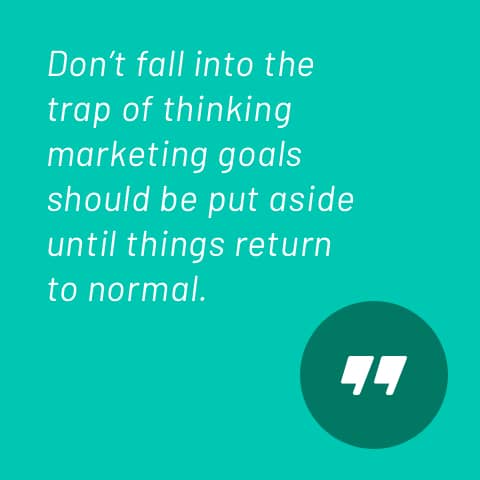 Refocus your marketing goals
No business is operating the same as they were before COVID-19. That likely means your organization's goals and objectives are shifting. As your business is shifting its goals, be sure your marketing goals are changing to be aligned. As an example, some businesses might find brand awareness to be more important than it was before. However, if your marketing strategies and goals weren't prioritizing brand awareness KPIs, now they should. Don't fall into the trap of thinking marketing goals should be put aside until things return to normal. 
Consider cutting campaigns and marketing programs, not marketing channels
The first tendency for marketers making cuts is considering entire individual channels. Since most marketers are viewing their data through a last touch attribution lens, there can be unintended consequences by cutting top-of-funnel channels that get very few direct conversions but fill your marketing funnel. If you're relying on Google's default last touch attribution model, then lean into your native marketing channels' reporting to see how Facebook, AdRoll, Quantcast and others report attribution over a period of time. This will prevent cutting channels that are vital to your customer's path to purchase. Reallocate your dollars to marketing campaigns and programs that build toward your organization's objectives during the pandemic or crisis.  
Consider a new way to show your reports to stakeholders
Don't feel alone when you send your reports to your c-suite and get the feeling they never open the file. You're joined by many marketers who struggle to build reports that catch the attention of a CEO. That's because you're busy and there are no out-of-the-box reporting tools that centralize all of your data and layer it together to tell a deeper story (by the way, we can help with that). Use this time as an opportunity to reorient your reports to show results and not activity. Take the extra time to export data, compile it together and draw some conclusions. If you're not already doing so, begin using UTMs on all links leading back to your site. Track more events and goals within Google Analytics. Dedicate more of your time collecting your data, reviewing your data and drawing meaningful insights. Every report has room for improvement, so take the time to elevate yours during a time when all budgets are on the chopping block. (And, if you do need help, let us know – we'd love to help you build reports and insights that show the true value of your work.)